Discovery Montessori school was established in 2004 and we have been serving West Covina, Covina, Baldwin Park, El Monte, Azusa, La Puente, Valinda, City of Industry, San Dimas, La Verne, Pomona, and surrounding areas for over 17 years. 
In addition to being an experienced (and qualified) Montessori & Early Childhood Educator for over 30 years — the Director & Owner of Discovery also holds a degree in English along with a post-graduate in Early Childhood Development.
In her experience in teaching children for over 30 years, she has continued to pursue her California Teaching Credentials and have earned the title of Site Supervisor in Child Development through certification.
All staff members at DMS are dedicated to the safety and education of each child and their individual developmental needs.
In addition, all staff members at Discovery are:
Montessori Trained
First Aid & CPR certified
Fully background checked
Regularly subject to performance evaluations
There are seven fundamentals needed to cater to children in the Montessori environment:
Freedom
Structure and Order
Beauty
Nature and Reality
Social Environment
Intellectual Environment
Montessori Materials
The objective of a Montessori education is to help children:
Improve social and emotional skills
Facilitate language and literacy skills
Gain practical experience in life
Develop math and number sense
Train in good etiquette and politeness
Encourage independent learning in themselves and their peers
Our Core Curriculum includes:
Activities that stimulates all of the senses
Practical Life Exercises
Mathematics
Language
Reading, Writing and Spelling
Geography and History
Physical Education
Cultural Awareness
Botany and Zoology
Arts and Crafts
Music and Dance
Science and Nature
Basics of Computer skills
Basics of the Spanish language
Just in case if you're unfamiliar with the benefits of the Montessori method and are asking yourself…
What is the Montessori Method? 
The importance of early years from birth to six-years old is emphasized by Dr. Maria Montessori as a period referred to as "the absorbent mind" when the child's intelligence is at the highest point of development.
Dr Maria Montessori explains that "the most important period of life  is not the age of university studies, but the first one, the period from birth to age six, for that is the time man's cognitive development is at the highest"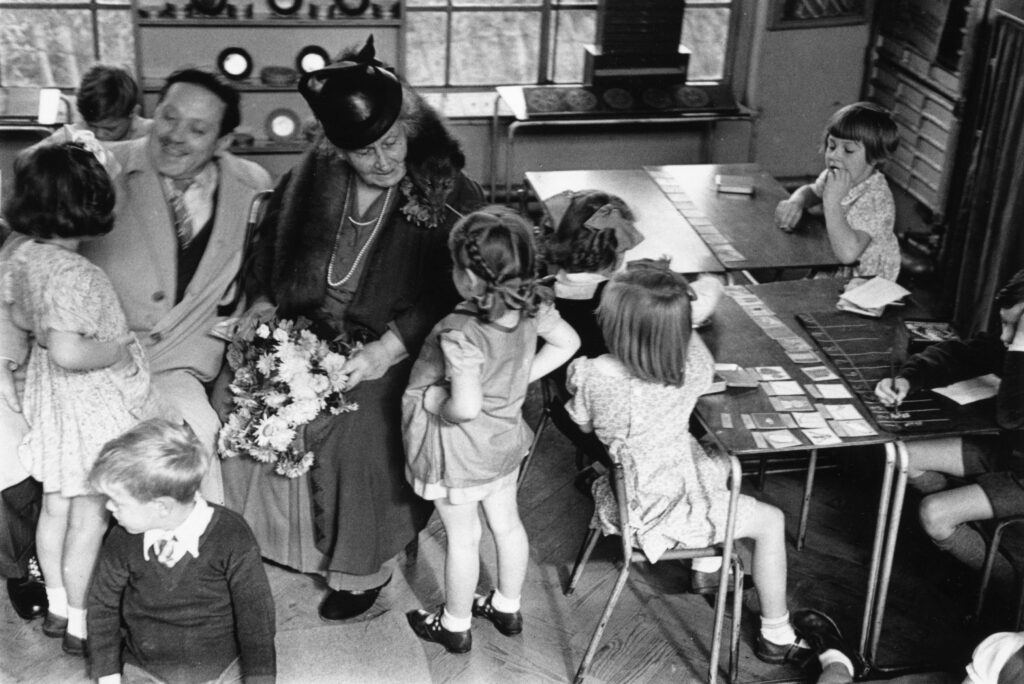 How the Montessori learning environment is much different than the traditional model
Instead of information passing from the teacher to the student, the teacher is skilled in putting the child in touch with the environment, and helping them learn to make intelligent choices and to carry out research in a prepared environment.
The teacher then protects the student's concentration from interruption. This fosters a love of lifetime learning in the student. Keep in mind a triangle: the student, the parent or teacher, and the environment.
It is the role of the adult to prepare, and continue to prepare, the environment, to link the child to it through well-thought-out introductions to books and materials, projects, and lessons, which nurture the child's exploration and creativity.
Under this method, the child often surpass both the level of education of their peers, and the knowledge of the adult in all areas — then they learn to find answers for themselves.
The Montessori school environment is arranged according to subject area — cooking, cleaning, gardening, art, caring for animals, library corner, etc. — children are always free to move around the room instead of staying at desks.
There is no limit to how long a child can work on something she has chosen. At any one time in a day all subjects — practical work, math, language, science, history, geography, art, music, etc. — will be being studied, at all levels, by children of mixed ages learning from each other, facilitated by careful observation, individual lessons, record keeping, and help of the teacher.
Discovery Montessori follows the Montessori method, and our classrooms are prepared to:
Allow your child to work independently
Help your child experience the joy of self-discovery
Maximize your child's curiosity and desire to learn
Allow your child to succeed academically by discovering their innate ability to learn
The most important aspect of our educational mission is not only academics.
Our primary goal is to foster and enhance each child's natural sense of joy and wonder.
We feel that children should delight in childhood and school should be fun and a buzz of creative activities. We want the children to love school and the process of learning. -The idea that "education is not a chore" but a joyous exploration of life's mysteries is the most important lesson that we hope to teach your child here at Discovery.
If you'd like to unlock your child's potential, it's time to enroll them at Discovery Montessori right now.